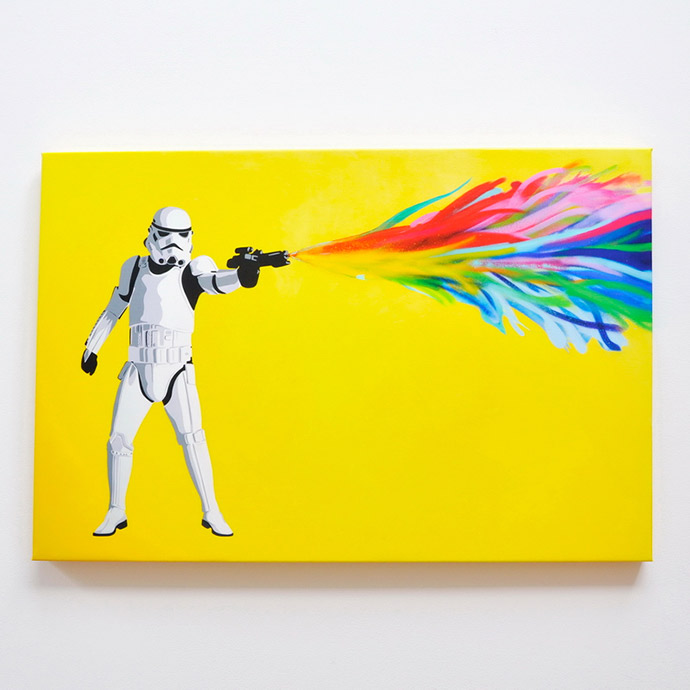 Stormtrooper Rainbow Blast
Several months ago I received an email with a subject line that made my heart flutter more than either of the OkCupid notifications it was nestled between.
It read: STAR WARS ART, sent by one Luke Lombardo.
I held my breath and bit the inside of my cheek. I hoped that Lombardo's was not the name of a NYC pizza joint that was simply sending me a well-targeted coupon offer.
Thankfully, The Force was my ally (I was thinking of Lombardi's Pizza). Luke was writing to thank me for a shout-out during an old episode of TC Cribs.
It came back to me immediately. I'd been touring YouTube's office when I encountered the masterpeice you see above and promptly spazzed out — reading his name aloud and declaring that it might be my favorite piece of art, ever (my spaz-out comes around 1:20 into this video). As a result of this shout-out, he said, there'd been a flurry of inbound requests for prints of his work.
At the time he wasn't set up to make prints that would do his art justice, so he decided to do something about it: he started a company called Art For People, which now specializes in selling professional-quality prints on stretched canvas, featuring a curated selection of Lombardo's work and pieces from other artists. He wanted to send me a copy of Stormtrooper with Rainbow Blast as a thank-you for helping get him motivated to launch his company.
My initial instinct was to shrug it off with an 'aw, shucks' — after all, I'd only done what any self-respecting geek would do in the face of such awesomeness. But it also made me reflect a bit on my time at TechCrunch. Few people get the chance, as I did, to stand on a platform that high and point at neat stuff and have it make a significant impact on peoples' lives. When I was still writing for TC that influence was something I tried not to dwell on — it made me anxious — but in hindsight it just makes me feel remarkably lucky.
After further consideration I also realized there's a line between humility and stupidity, and in this case it was very clear — so I sent Luke my address, and he sent me a gorgeous print of Stormtrooper, which will be prominently featured in my home forever.
If you're keen to get one for yourself, you can find it here, and there's a bunch of other great art available on the main Art For People site. Lombardo's work is also featured in an exhibit inspired by 80s movies that's being held at the Gauntlet Gallery in San Francisco. The exhibit is fittingly called, "Where we're going, we don't need roads."
Thanks again, Luke, and congratulations on your venture. May The Force be with you.
Published December 24, 2012